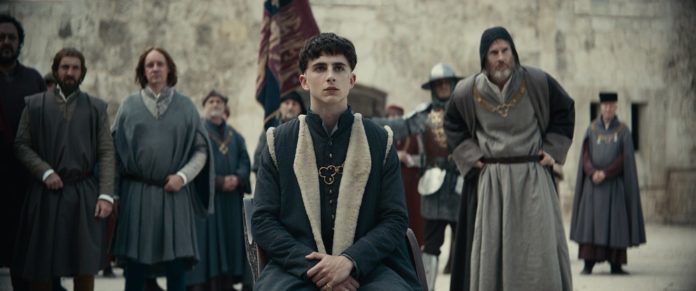 ---
Regie: David Michôd
Cast: Timothée Chalamet, Robert Pattinson, Joel Edgerton, Ben Mendelsohn
Produktion:
USA/AUS/GB 2019
Inspiriert von den Stücken 'Heinrich IV.' und 'Heinrich V.' von William Shakespeare
140 Minuten
---
(English Review below)
Vom BFI London Film Festival 2019
"Hal" (Timothée Chalamet), eigensinniger Prinz und Erbe des englischen Throns, wird nach dem Tod seines tyrannischen Vaters zum König Heinrich V. gekrönt. Jetzt muss der junge König die ihm vorgegebene Palastpolitik und den Krieg, den sein Vater hinterlassen hat ebenso bewältigen, wie mit den Auswirkungen emotionaler Stränge seines vergangenen Lebens.
'The King' ist David Michôds dunkle und gewalttätige Adaption von Shakespeares Henriad. Timothée Chalamet spielt darin Henry V/ Prinz Hal, einen jungen Mann, dem plötzlich eine schwere Verantwortung aufgezwungen wird. Sein Vater ist im Begriff zu sterben, und trotz der Tatsache, dass er der Älteste ist, zieht es sein Vater vor, den Thron seinem anderen Sohn Thomas zu überlassen.
Es ist eine Geschichte über einen jungen König, der sich von seinem tyrannischen Vater distanzieren musste und zu einem der größten Könige Englands wurde. Der Film konzentriert sich offensichtlich auf die wenigen bedeutenden Ereignisse seines Lebens, von seinem Sieg gegen die Familie Percy über seine Heirat mit der Tochter Karls VI. bis hin zur Schlacht von Hazincourt. Michôd bietet ein episches Stück mit Ehrgeiz (die Ästhetik und die Kampfszenen sind hier hervorzuheben) und eine absolut atemberaubende Partitur von Komponist Nicholas Britell. Es bietet nichts revolutionäres in Bezug auf den Regiestil, aber 'The King' ist ein Film mit genügend Unterhaltung und hält gleichzeitig seine Versprechen eines am­bi­ti­o­nierten Historiendramas.
Joel Edgerton als Henrys liebenswürdiger, treuer Freund und Begleiter Falstaff, erhält einmal mehr die Chance, sein schauspielerisches Talent unter Beweis zu stellen. Robert Pattinson beweist, dass er den Film trotz seiner kurzen Auftritte vollständig für sich gewinnen kann. Ben Mendelsohn, Sean Harris und Lily-Rose Depp als Prinzessin Catherine ergänzen die Besetzung mit soliden Charakteren.
---
Drehbuch: Joel Edgerton, David Michôd
Produzenten: Joel Edgerton, Dede Gardner, Jeremy Kleiner, David Michôd, Brad Pitt, Liz Watts
Kamera: Adam Arkapaw
Schnitt: Peter Sciberras
Musik: Nicholas Britell
Ab 1. November 2019 auf Netflix
---
The King
[BFI LFF 2019]
Hal, wayward prince and heir to the English throne, is crowned King Henry V after his tyrannical father dies. Now the young king must navigate palace politics, the war his father left behind, and the emotional strings of his past life.
'The King' is David Michôd's dark and violent adaptation of Shakespeare's Henriad and the actor Timothée Chalamet, is playing Henry V, Prince Hal, a young man who has weighty responsibilities suddenly imposed upon him. His father is about to die and despite the fact that he is the eldest, his father prefers to leave the throne to his other son, Thomas.
A story about a young king who had to distance himself from his tyrannical father and became one of England's greatest kings. The film obviously focuses on the few significant events of his life, from his victory against the Percy family, to his marriage with Charles VI's daughter, to the battle of Hazincourt. Michôd offers an epic period piece with ambition (the aesthetic and the battle sequences may also be praised) and an absolutely breathtaking score from Nicholas Britell. Nothing new regarding the directing style but The King is a film with enough entertainment while keeping its promises. Joel Edgerton as Henry's lovable, faithful friend and companion Falstaff, once again gets the chance to prove his acting talent. Robert Pattinson proves he can completely win over the movie despite his short screen time during his rare appearances. Ben Mendelsohn, Sean Harris and Lily-Rose Depp complete the cast with solid characters.
2h 20min | 1 November 2019 (Netflix release)