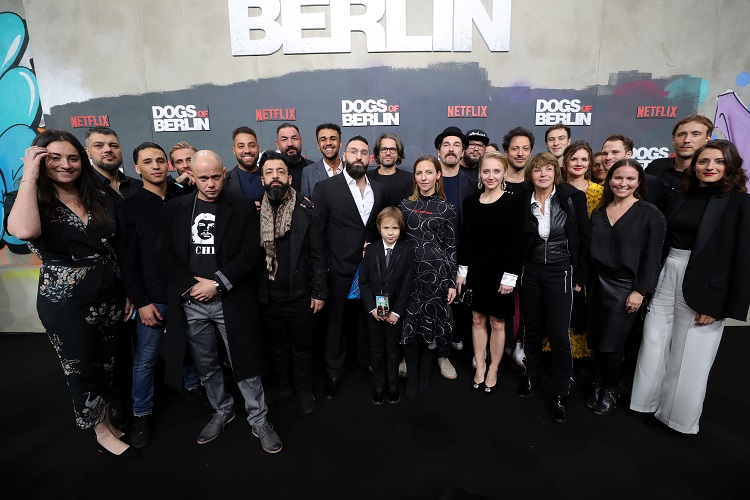 Einen Tag vor Serienstart feierte die zweite deutsche Netflix Original Serie 'Dogs of Berlin' am Abend des 6. Dezember 2018 ihre Weltpremiere in der Hauptstadt.
Der sonst übliche rote Teppich im Kino International
wurde in schwarz getränkt und Graffiti-Künstler verwandelten diesen in ein Street Art Kunstwerk.
Showrunner Christian Alvart und Produzent Siggi Kamml zeigten die erste Folge der Serie gemeinsam mit ihren Schauspielern – den Hauptdarstellern Fahri Yardim und Felix Kramer sowie Anna Maria Mühe, Katharina Schüttler, die beiden HipHop-Stars Haftbefehl und Sinan Farhangmehr (Sinan-G), Kais Setti, Katrin Sass, Mišel Matičević, Deniz Orta, Langston Uibel, Seneb Saleh, Tyron Ricketts, Alina Stiegler, Hendrik Seipold, Hassan Charour, Yasin El-Harrouk, Ghassan El-Khatib, Volker Littwin, Imad Mardnli, Cem Öcztabakci, Vittorio Pirbazari, Sebastian Achilles, Tayfun Bademsoy, Özay Fecht, Ilyes Raoul Moutaoukkil, David Bennent, Jan Bülow, Fillipos Chrissidis, Deniz Cooper, Werner Daehn, Hauke Diekamp, Cino Djavid, Eray Egilmez, Giannina Erfany-Far, Constantin von Jascheroff, Samy Abdel Fattah, Robert Gallinowski, Sebastian Zimmler, Mürtüz Yolcu, Burak Yigit, Armin Wahedi Yeganeh, Paul Wollin, Anton Weil, Antonio Wannek, Ivan Vrgoc, Malte Thomsen, Branko Tomovic, Sesede Terziyan, Aram Tafreshian, Canan Suvatlar, Niels Bruno Schmidt, Lena Schmidtke, Urs Rechn, Yung Ngo, Anne Müller und Lara-Sophie Milagro.

Zu den prominenten Gästen auf dem Roten Teppich zählten u.a. Enissa Amani, Laura Berlin, Josephin Busch, Caro Cult, Julia Dietze, Alice Dwyer, Gizem Emre, Roozbeeh Farhangmehr, Susan Hoecke, Marijke Smitt, Sabin Tambrea, Carolina Vera, Franziska Weisz, Meteo Jaschik, Caro Cult.
Der Cast der Netflix Original Series 'Dogs of Berlin' im Kino International in Berlin, Germany. (Photo by Andreas Rentz/Getty Images for Netflix)
JayCarpet Premierenclip mit Interviews
'Dogs of Berlin' (10 Staffeln) ist ab dem 7. Dezember 2018 auf Netflix verfügbar.